If you need one more fresh summertime salad for this Memorial Day weekend, I've got ya! This light and fresh Cucumber and Black Bean Salad is the perfect side for all your summer grilling, but also works great as a taco topper, base for a bowl meal, or even a chunky salsa for chip dippin'. The freshness of the cucumber balances the earthy black beans, and the tangy homemade vinaigrette keeps everything light and fresh!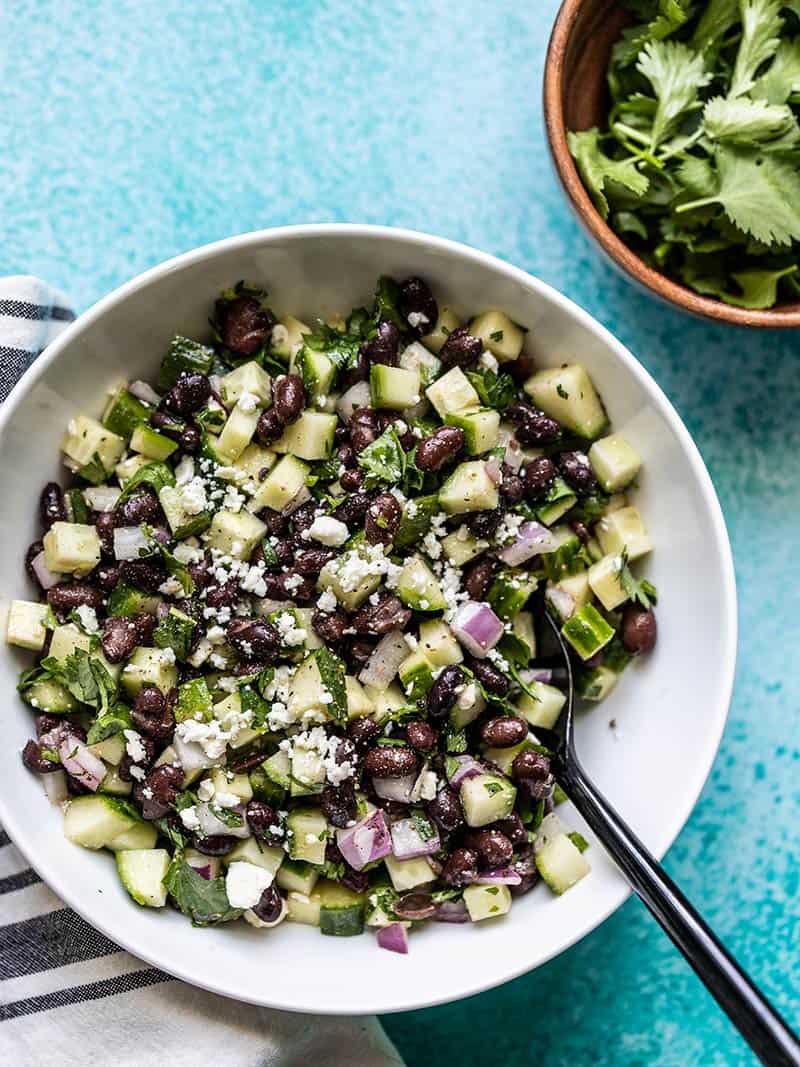 KEEP IT SIMPLE OR SPRUCE IT UP
You know I love to keep my food as simple as possible, but this salad is flexible enough to handle additions, if you happen to have them on hand. Might as well use up any lingering ingredients in your fridge, right? Here are some other ingredients that would go great in this Cucumber and Black Bean Salad:
Corn kernels
Avocado
Diced red bell pepper (fresh or roasted)
Diced Green bell pepper
Jalapeño
Diced tomato
Pineapple

"I HATE CILANTRO!"

I hear ya. You got dealt the cilantro-hating genetic hand, but this Cucumber and Black Bean Salad still looks so delicious! Luckily, this salad is one of the few instances where I think parsley would work equally as well. Parsley goes great with cucumber, so it would be just as home here as the cilantro. We all win!

This is another great "refrigerator salad" that you can keep on hand and add to just about any meal you eat throughout the week. And not only does it hold up well, the flavor gets better as it marinates in the fridge.

Its obvious use is as a side dish, and it would go particularly well with grilled meat. I've also been using it as a base for bowl meals (add an egg and a spoonful or two of salsa verde), it can be spooned onto tacos as a sort of chunky salsa or relish, or you can scoop it up with chips for a fresh vegetable-y dip!